Happy Halloween from SpooOOOooOky Buddy Stoodios!
November 01, 2013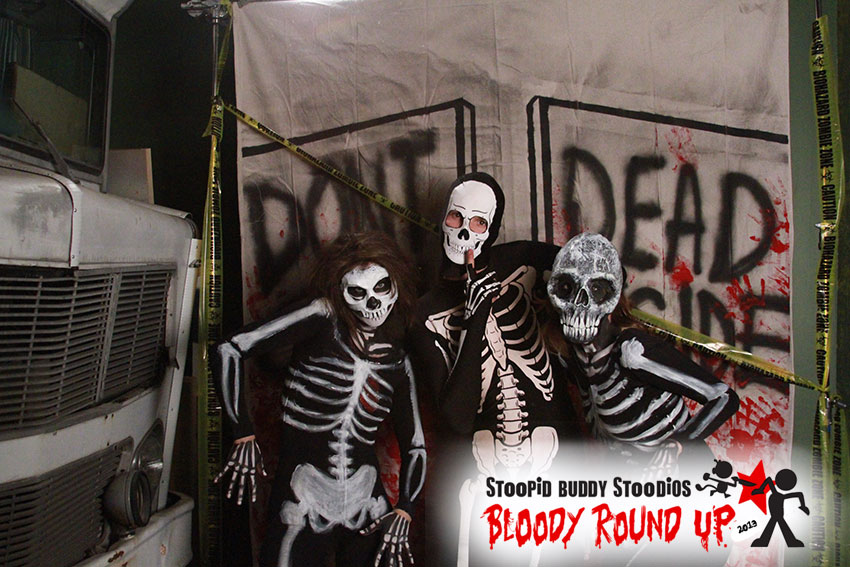 One night each year the DEAD walk the Earth…
and go party at the BLOODY ROUND-UP!!!
Once again, the Buddies gathered 'round the bagos for a night of terror, treats, and a hauntingly good time! This was the stoodio's second annual Bloody Round-Up– and it was a HUGE success!! Check out some of the amazing costumes from our undead-inspired photo booth!

Ben won the prize for "Most Original Costume" with his homemade SNAKE ATTACK!!

Chewy's taking the back seat on this one– leave the action for Han Solo and The Man With No Name.

Look's like the winner of "Sh*ttiest Costume Ever" really made a KILLING that night!

The Post Department knows how to Par-TAY!!!

And the prizes for "BEST COSTUME EVERRRRRR" and "Funniest Costume" go to Sharknado and Dead Mufasa, respectively.

And who could forget the giant creepy baby who won the prize for "Scariest Costume"??

Life-size Taco meets life-size Breakfast Burrito… and all is right in the world.

Woah! Is that George Lucas and Steven Spielberg from the early 1980's?? We love your work!

To me, my X-Men!

Overall, it was a BONE-chillingly fun night!!