NYCC Recap!
October 18, 2016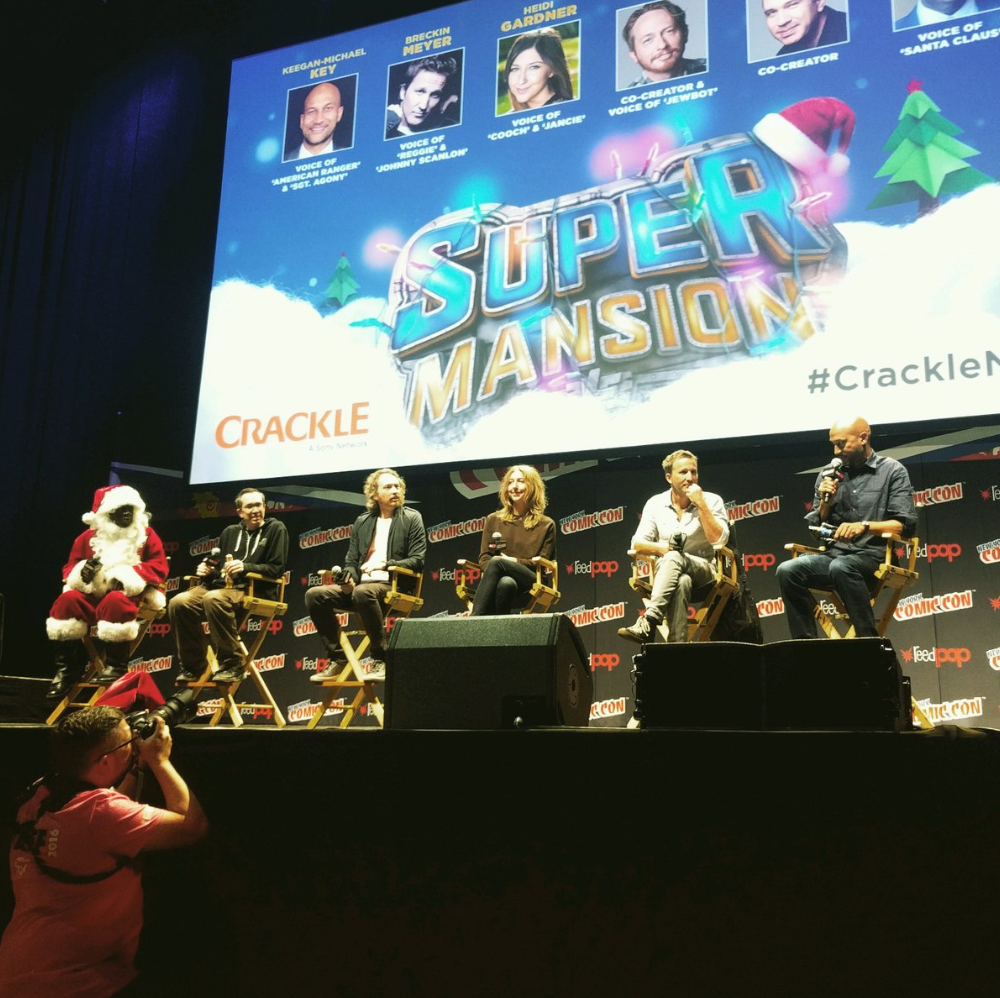 If you missed New York Comic Con this year and are kicking yourself in the head for making such an epic error in judgement, STOP IT! And have no fear! We're here to tell you all about the sweet surprises that Stoopid Buddy Stoodios left for our fans on the convention floor and everywhere else. Bandage up that head of yours, because we're going back to the con!
First up, SuperMansion's own Titanium Rex was spotted all around the convention, glad-handing the citizens of NYC and preventing convention catastrophes. Were it not for him, this actual tyrannosaurus rex could've caused some serious damage.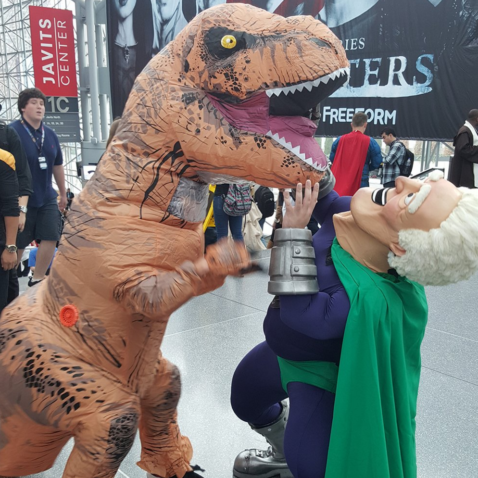 Just look at the relieved faces of the crowd!

But all the real scoops came out of the Hammerstein Ballroom where Crackle's SuperMansion panel floored con-goers with surprise after super surprise! Show creators Matt Senreich and Zeb Wells were joined by Heidi Gardner (voice of Cooch), Breckin Meyer (voice of Johnny Scanlon and others) and Keegan-Michael Key (voice of American Ranger)…OH AND THEN SANTA CLAUS CAME TO TOWN! Gary Anthony Williams (The Boondocks, Malcolm in the Middle), who will be the voice of Santa Claus in the upcoming "SuperMansion: War on Christmas" Christmas special, magically appeared on stage in full Saint Nick attire!
The panel then answered audience questions and delivered some exclusive news about season 2, SUCH AS:
Yvette Nicole Brown (Community, The Odd Couple) will be joining SuperMansion season 2 as a cast member.
Jim Parsons (The Big Bang Theory) plays a villainous imp in the upcoming SuperMansion Christmas special.
The "SuperMansion: War on Christmas" Christmas special will stream free on Crackle starting December 8th.
Official Stoodio Buddy Breckin Meyer will play "a giant douche" in SuperMansion season 2 (according to Zeb Wells).
The cast and creators also interacted with the fans mano a mano in an autograph signing, where con-goers not only got to meet their heroes, but they got gifts from Santa Claus himself! In this case, it was still our pal Gary Anthony Williams in a Santa suit, but boy did he commit.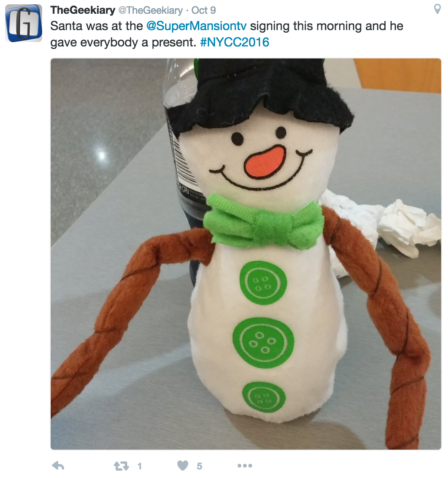 We had a blast in NYC and it was humbling and thrilling to see such a huge throng of fans all at once! Thank you to everyone who turned out and we can't wait to see you next year!