Our First Class of Animation Stoodents Graduates from Stoopid Buddy Stoodios!
June 03, 2013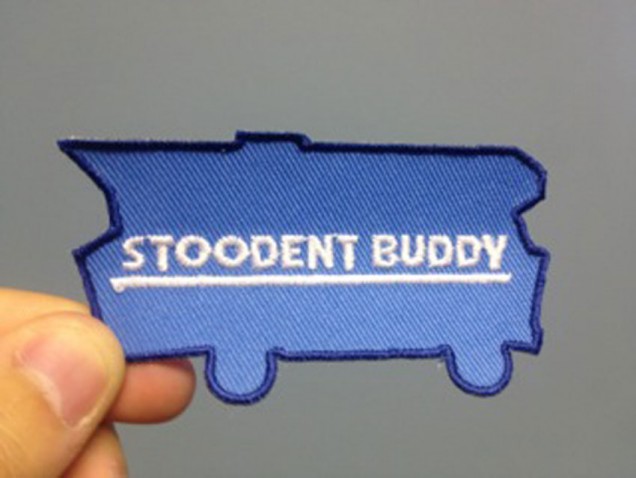 A few months back we opened up our studio to aspiring animation students and fellow animators to come learn from our very best– Animation Director Alex Kamer! You've seen his work on Robot Chicken, Titan Maximum, Dinosaur Office, and much, much more.  For eight weeks, our Stoopid Buddy Stoodents got to learn from Alex and create their own content with hands-on direction from the award-winning Animation Director. The conclusion of the inaugural class was brought to an end with a bang as the stoodents received a warm welcome and Q&A from head buddies John Harvatine IV and Eric Towner, in addition to Supervising Producer Janet Dimon and Co-Producer Ethan Marak.  After a dinner catered by the always-delicious Porto's Bakery, our stoodents were given a certificate of completion and a honorary, specialized Stoopid Buddy patch that firmly makes them graduates within the Stoopid Buddy culture. If you're interested in attending future classes, drop us a line at getclassy@leagueofbuddies.com.
"The animation class at Stoopid Buddy was amazing! I had done some animation on my own before, but the class helped me take my animation to a whole new level! The class teaches the fundamentals and very quickly moves into developing your character acting through hands-on animation exercises with Robot Chicken puppets. It's crazy how much you can learn and improve in such a short amount of time, and you could see it in everyone's animation across the board. Alex is an amazing professor, and gives excellent feedback to help you improve every time you shoot. Overall, the class was an extremely fun and rewarding learning experience! I'm proud to have been among the first class of Stoodent Buddies!" — Jason Oshman, Stoopid Buddy Stoodios Graduate.